Marion Desseigne Ravel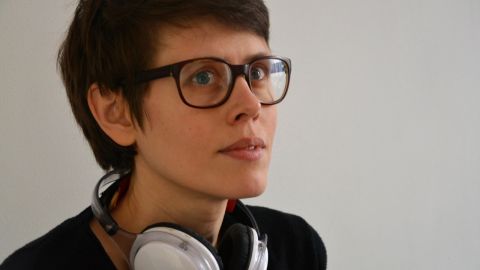 biography
Marion Desseigne Ravel discovered the cinema when she was 20, by participating in a documentary about the struggle of undocumented people in Ile-de-France. Then, she entered the Fémis where she experienced working with actors and got to like fiction films. There, she made short movies, including LES MURS and VOYAGE EN LEMURIE, selected in many festivals, and once out of school, LES ORMES and FATIYA. She finished her first feature film : LES MEILLEURES.
Engaged in associations, she co-founded the association Combats Ordinaire in 2009, and she is participating in structures such as Mille Visages or the Festival des Films de Femmes de Créteil. Since 2016, she has been teaching in University Paris 8.
filmography
Feature films
Produced by Tripode Productions and 31 Juin Films.
With the writing aid of the CNC, and the writing aid of the Basse-Normandie.
Winner of the Fondation GAN 2019
France 2, France 2 Cinéma, Ciné +
Distribution : Le Pacte
LES CHATS ONT NEUF VIE, MOI UN PEU MOINS
In writing
Selected by the Groupe Ouest and at the residency of the Maison Bleue in Contis.
Selected in the « La Sélection » by the Fondation Gan.
Short films
FATIYA – 19 min.
Produced by Delphine Schmit, Tripode Productions (2018)
Selected in the Festival International of Clermont-Ferrand (2019), in the Festival de Vila Do Condé (2019)
Acting mention for Lyna Khoudri from France Télévision Awards
LES ORMES – 16 min.
Produced by Delphine Schmit, Perspective Films. (2017). Selected in Festival International of Contis, Un Festival C'est Trop Court !, the Festival International du Film d'Aubagne, the Hong Kong International Film Festival.
VOYAGE EN LEMURIE – 8min30. (2013)
Broadcast by Arte in the 2014 spring. Selected in the Festival du Long Métrage des Femmes de Créteil, 2014, the River Run festival and in the Interfilm in Berlin. Best Award in the Science-Po Festival 2014.
FIN D'ETE – 25 min. in 16 mm. (2011)
Selected by various festivals including Fenêtre sur courts and the meetings of image of Cairo.
LES MURS – 12 min. in 35 mm. (2010)
Selected in various festivals including Côté Court in Pantin and the Molodist Film Festival of Kiev.
L'AVENIR EST INCERTAIN POUR NOUS RESTONS ICI – documentary, 25 min. (2009)
MERCREDI MIDI – 5 min. in 16 mm. (2009)
VOICI VENU LE TEMPS DES PIRATES : participation at the collective feature film Outrage & Rébellion coordinated by Nicole Brénez and Nathalie Hubert in honour of Joachim Gatti.