Camille Alméras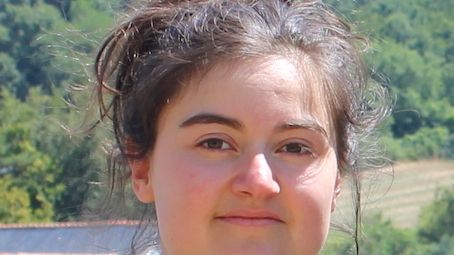 biography
Camille is an animation film director.
After studying 2D animation at DMA in the ESAAT, she went for a 6 months exchange program in Norway. She directed her first film, Le Bleu Pays, a poetic promenade of paper cut. Back in Paris, she joined the Arts Décoratifs. In 2016, her clip, Les Mains Froides, for Oldelaf, won the First Prize at the BPI animated music video contest.
Camille likes to draw rough sketches. She is fascinated by everyday life and its small events. Her films are born of documentary approach most of the time - her curiosity lead her from the workshop of a naval shipwright to the radiology rooms of the First World War.
Currently, Camille alternates between commissioned projects and arthouse films.
LA GRANDE GUERRE DE MARIE CURIE, a TV special she is developing with Tripode Productions, is already supported by many grants and residencies in France since the first steps of its writing.
filmography
SANS PAPIER LE PARCOURS D'OBSTACLE - 2021 - 5 x 30 minutes

Direction of five videos for La Cimade
SPARADRAP RÉPOND Á TES QUESTIONS - 2020 - 2 minutes 30

Motion design for the Sparadrap association
FAMILLE & EDUCATION - 2020 - 2 minutes 30
Promotional film for the société de la famille éducative

LE THÉ AU JASMIN - 2019 - 3 minutes 30

Linocut and 2D
 digital animation
Video clip for 27

OCEANBIRD - 2019 - 4 minutes

2D
digital animation
Videoclip for Moon Loves Honey
FAERING - 2017 - 9 minutes 30
Stop motion and 2D
 digital animation
Graduation film at the EnsAD, 22 selections in international festivals
LES MAINS FROIDES - 2015 - 3 minutes 50
Paper decors and pixillation
Videoclip for Oldelaf
- First Prize of the «Faut qu'ça bouge !» contest by the BPI in 2016
- Audience Award at the Paris International Animation Film Festival (PIAFF) 2016
LE DON DE VETEMENTS - 2015 - 5 minutes 20
2D Animation and paper cuts
Commissioned film for the Secours Catholique

LE BLEU PAYS - 2014 - 2 minutes 50
Paper decors and 2D digital animation
Selected at Fredrikstad Animation Festival